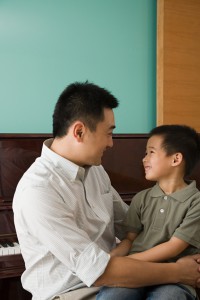 Lester Hough is a qualified teacher with an enhanced DBS check.
He has taught boys and girls from the ages of 9 to 18 in schools and colleges, and has taught children from the age of 5 the piano.
Family friendly lessons.
Parents and carers are always invited to sit in on the lessons. We also offer a special 'parent and child' lesson. For younger children and beginners, this works as 20 minutes for the child and 10 minutes for the parent for the price of a single lesson. Many families have come back and enrolled younger siblings after seeing how well an elder child progresses. If you have special circumstances (such as triplets!) then do come and talk to us about how we can serve you best.
A teacher who is good with children
Though his long teaching career he has learnt that children learn best when they enjoy what they are doing. He has taught children as young as 5 years the piano and assesses each child individually. He offers parents a free assessment for all children. If he feels that it will be better to wait until they are a bit older before starting, he will say so.
Whether your child is a young and talented prodigy, or if they want to learn just for fun, Lester makes sure they enjoy learning and develop a technique that can take them as far as they want to progress.
During GCSE years, he understand the competing pressures on students, and he works to their ambitions. Sometimes this involves skipping grades to press on where the student is developing quickly. At other times it involves taking a break from exams and exploring different genres.
Whatever your child's talents and ambitions, Lester will put their personal development at the forefront.
What can piano lessons do for your child?
Music lessons have been shown to increase intelligence.
Music accomplishments help build confidence.
Regular practice builds concentration and habit forming diligence.
Piano playing is fun.
Children get to play their favourite music.
They can entertain to family and friends.
Piano playing gives students a feel for music structure more so than than they would get playing an instrument which only plays one note at a time.
Ask us for a free assessment to see if your child is ready to learn to play.