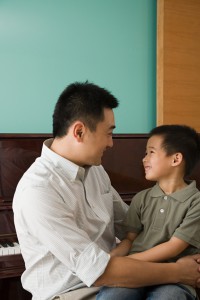 Hull Piano School is led by Lester Hough who is a qualified teacher with an enhanced DBS check.
He has taught, in schools and colleges, children from the ages of 9 to 18, and has taught children from the age of 5 the piano.
Family friendly lessons.
Parents and carers are always invited to sit in on the lessons.  Many families have come back and enrolled younger siblings after seeing how well an elder child progresses.
An individual approach
Children learn best when they enjoy what they are doing. So every child is assessed and coached individually. The maturity, talent and the ambitions of every student are taken into account to ensure that they progress appropiately for their own development.
Laying solid foundations
Above all we focus on developing a sound tachnique from the very first lesson. This gives a solid base for the student to progress at higher levels. It also gives them the tools to express themselves through their playing.
Recognising progression,
Students are reguarly entered for structured performance exams which give them a measure of their progress and independent assesment of their performance. During lockdown the examining boards provided an online assessment facility and they are still retaining this while re-opening local examining sessions.
Flexibility
No one progresses at the same rate all the time and in partucular we recognise that the GCSE years bring competing pressures on students. We respond to pressures on the student. Sometimes this involves skipping grades to press on where the student is developing quickly. At other times it involves taking a break from exams and playing simply for pleasure for a while. **************************************************************************** Whatever your child's talents and ambitions, Hull Piano School will put their personal development at the forefront.
****************************************************************************
What can piano lessons do for your child?
Music lessons have been shown to increase intelligence.
Music accomplishments help build confidence.
Regular practice builds concentration and habit forming diligence.
Piano playing is fun.
Piano playing gives students an appreciation of music.